DON@: International Students Embrace "Sharing is Caring" Event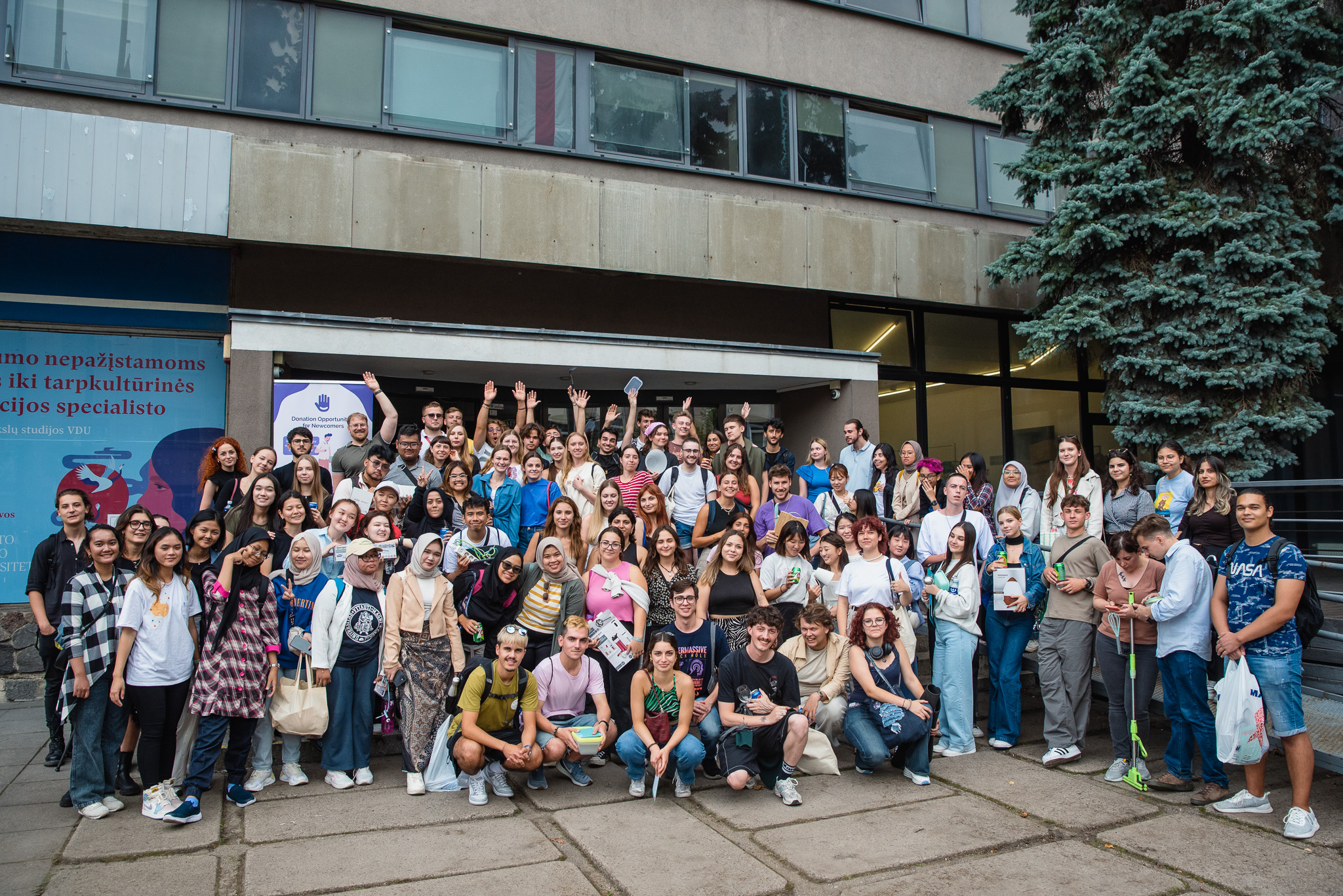 Last week, on August 24th, Vytautas Magnus University (VMU) hosted "Sharing is Caring" Donation Day for the first time, a heartfelt event that brought together newcomers and international students to embrace the spirit of giving back. During the event, almost 100 exchange and full-time students were invited to find kitchen essentials, items for cleaning, and things for studies and sports to start their new academic year and study journey in Kaunas.
The event was organized as part of the DON@ Donation Opportunities for Newcomers project aimed to facilitate the integration and improvement of living conditions of students with fewer opportunities by promoting mutual support, inclusion, and sustainable development. We extend our gratitude to the Student Affairs Department, the "Baltija" Dormitory administration, and our dedicated volunteers for their invaluable support in organizing this event.
Rocco, an exchange student from Italy: "Thanks to the DON@ event, I managed to get a kitchen kit, which will be helpful for me. And during the event, I also managed to get this ladle to cook some sauce for my pasta. Thank you so much!".
Mariia, a full-time student from Ukraine: "I think it's a really good project that saves our planet and our environmental system. Also, we don't overuse new products, we don't buy items and new things".
Yana, an exchange student from Ukraine: "I've joined this event, and I've got a wooden cutting board so that all tables will be saved now. Thank you for this event and for the donations!".
The "Sharing is Caring" event within the Orientation Day's program was not only for sharing things but also offered a unique opportunity for new international students to connect, share experiences, and make friends. Also, all registered students could win unique electronic things left by previous students via lottery, such as a sandwich maker, garment steamer, hand blender and smoothie maker kit, and electric lint remover for clothes.
Anastasiia, a full-time student from Ukraine: "We are very glad to be a part of this donation event because it's a great opportunity to make new connections, meet more people, and get some free devices for free which we will use!".
The "Sharing is Caring" Event was made possible by the donations of the previous cohort of exchange students, recent graduates, and volunteers. At the end of last semester, 35 students left gently used or new things they no longer needed (kitchen stuff, electronics, items for cleaning, hobbies, and studies). Many VMU students expressed their wish to help with the project implementation at the end of the previous academic year.
Shaurya, a full-time student from India, shares his impressions: "I decided to help the DON@ team in their item collection from departing students. The events were set to coincide with the students leaving after finishing the semester to ensure maximum collection and minimum waste generation. I helped the team during their collection events in "Baltija" dormitory, where different students came forward and donated their stuff for the future students".
Roman, a full-time student from Azerbaijan, joined a volunteer team too: "I volunteered for the DON@ project that promotes sustainable development as it saves stuff and passes to the next generation from the previous students. It helps with plastic emissions, reduces waste, and helps students with fewer opportunities. They don't need to go and buy the stuff; they arrive and get it. I was very glad to participate in this project and remember caring".
Moreover, many items left by foreign students (clothes, footwear, bedding) were donated to people experiencing homelessness at the Kaunas Archidiocese Caritas (Ateik Caritas).
Quote from Day center manager Rosita Mikėnienė, who accepted donated items:
"Ateik" day center at the Kaunas Archdiocese Caritas is for people experiencing homelessness and loneliness to spend time, warm up, drink a cup of coffee or tea, and be in a safe environment. About 30-40 people visit here daily, even more in winter. Most of them receive very little or no income, so they need various assistance in the form of clothes, food, and other items. Thanks to the students for their help and this donation initiative".